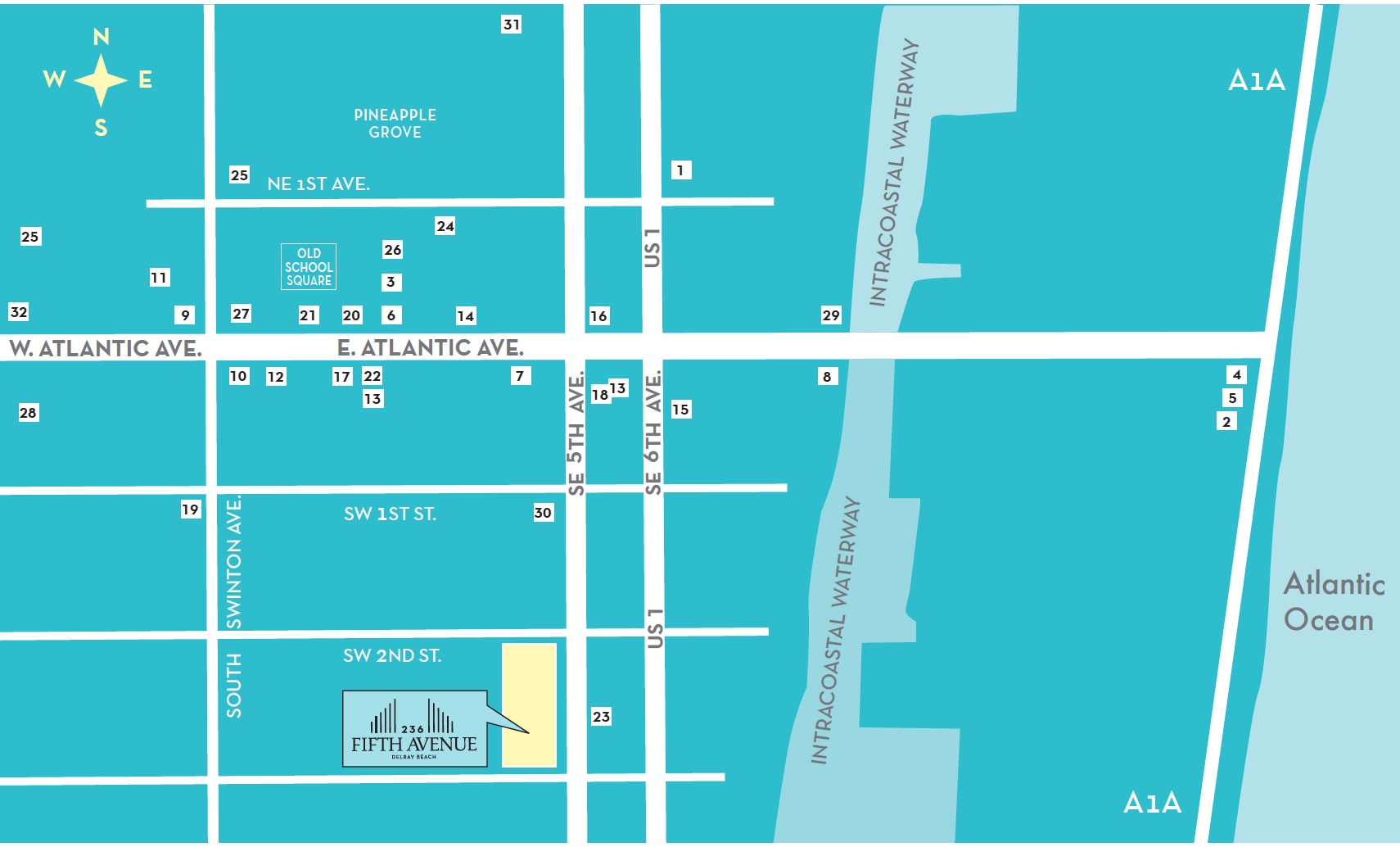 SofA District in Downtown Delray Beach
Convenience…When You Need It
Positioned in the chic yet cozy oceanside community in the SofA District in Downtown Delray Beach, 236 Fifth is in the heart of the SofA (South of Atlantic) district. Encompassing the two blocks to the south of Atlantic Avenue on Federal Highway between Second and Third Street, this unique area is a cultural hub of arts and entertainment, dotted with acclaimed fine dining establishments, quaint cafes, and bars.
Only a few minutes' walk is the world-class dining, shopping and culture of Atlantic Avenue, Pineapple Grove, the Intracoastal Waterway and the Atlantic Ocean. 236 Fifth is just 25 minutes from West Palm Beach, 30 minutes from Fort Lauderdale, and one hour from Miami and a mere 10 minutes away is tony Boca Raton.
​Site location
236 5th Avenue, Delray Beach, FL 33483
Sales Center
901 George Bush Blvd., Delray Beach, FL 33483
Hours: Open today · 9AM–5PM
Call for a private showing: (561) 704-5559
All dimensions, layouts, artist renderings, specifications, prices and features are approximations and subject to availability and to change without notice, as recommended by the architect, contractor and/or developer, and/or as required by lay. Stated dimensions are measured to the exterior boundaries of the exterior walls and corridor walls and to the center-line of interior demising and common walls, and in fact vary from the dimensions of the actual living space. Availability and prices of residences are subject change without notice. Oral representations cannot be relied upon as correctly stating the representations of developer. For correct representations, make reference to project documents provided by the developer to a buyer or lessee. All offers are subject to the terms and conditions of any sales or reservation agreement with the developer. Not an offer or solicitations where prior registration is required or otherwise prohibited by state statues. Equal housing opportunity.
DINING
1 Anthony's Coal Fired Pizza
2 Boston's on the Beach
3 Bru's Room Sports Grill
4 BurgerFi
5 Caffe Luna Rosa
6 City Oyster
7 Cut 432
8 Deck 84
9 Doc's All American
10 32 East
11 Dunkin' Donuts
12 Honey
13 il Bacio
14 Johnnie Brown's
15 Mellow Mushroom
16 Mussel Beach
17 Rocco's Tacos & Tequila Bar 18 Starbucks
19 Sundy House
20 The Office
21 Tramonti
22 Vic & Angelos
23 La Cigale
ART & GOVERNMENT
24 Arts Garage
25 Delray Beach Tennis Center
26 Cason Cottage House Museum
27 Cornell Art Museum
28 South Palm Beach County Courthouse
29 Veterans Park
30 iPic Movie Theater
GROCERIES
31 Bedner's Farm Fresh Market
32 Tony's Deli & Meat
SHOPPING
Atlantic Avenue
Delray Marketplace
Delray Town Center
Shoppes of Congress Square
South Delray Shopping Center
The Boys Farmers Market
The Plaza at Delray
BEACHES
Delray Municipal Beach
Sarah Gleason Park
Sandoway Park
Anchor Park
Atlantic Dunes Park
PARKS & RECREATION
Pompey Park
Catherine Strong Splash Park
Lake Ida East Park
Miller Park
Caloosa Park
Morikami Museum & Japanese Gardens
Gumbo Limbo
CHURCHES & SYNAGOGUES
St. Paul's Episcopal Church
Cason United Methodist Church
The Avenue Church
Temple Sinai-Palm Beach County
Delray Orthodox Synagogue
Chabad of Boca Raton
SCHOOLS
Banyan Creek Elementary School
American Heritage School
St. Vincent Ferrer Catholic School
Unity School
St Paul's Day School
Atlantic Community High School
Seacrest High School
Lynn University
Florida Atlantic University
Keiser University
FAU College of Business
Everglades University
TRANSPORTATION
Ft. Lauderdale-Hollywood International Airport
Palm Beach International Airport
Miami International Airport
Port Everglades
Port of Miami
HOSPITALS
Delray Medical Center
Bethesda Memorial Hospital
Boca Raton Hospital
Lynn Regional Cancer Center
Delray Surgery and Laser Center